TOWSON, MD—Baltimore County has launched a new emergency alert system for local residents and businesses.
BaltCo Alert, Baltimore County's official emergency alert system, is now up and running, providing residents and businesses with a new, opt-in service that will enhance emergency readiness by notifying county residents and businesses of urgent situations that may require efforts to prepare or lifesaving actions.
Once registered, BaltCo Alert users will receive automated notifications about situations such as severe weather, hazardous materials spills, widespread utility outages, disaster evacuations and emergency situations near schools. Messaging may be regional or countywide, depending on location and nature of the emergency, and residents can choose to receive notification via phone calls, texts and/or e-mail.
Those who previously signed up for the County's Emergency Notification System (ENS) system should create a new account to ensure accurate address and contact information.
"Clear, timely communication is critical for supporting effective and efficient emergency response and for ensuring our residents can remain safe," said Baltimore County Executive Johnny Olszewski. "BaltCo Alert allows us to instantly share critical and time-sensitive information with the Baltimore County community, giving residents the resources they need to take action to protect themselves and their loved ones."
While users only need to provide a name and contact information to establish an account, individuals can use the system to provide additional household information such as names and ages of residents, vaccination information and pet information, which can guide first responders in the event of an emergency. After an account is created, users are encouraged to log in annually to ensure that their information is up to date.
Only public safety information requiring immediate notification will be sent by BaltCo Alert. The system will not be used for general county updates or outreach, and information will never be sold or shared for any purposed not directly related to emergency notification.
Those who need help with registration or have BaltCo Alert technical questions may contact County Emergency Management via [email protected].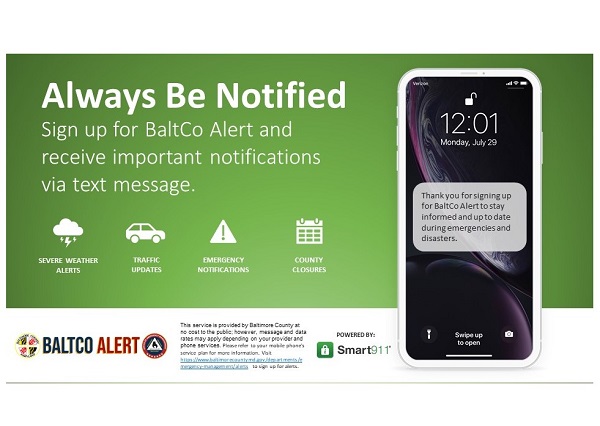 Featured photo via Pixabay