UPDATE: At least two Parkville/Carney intersections have flooded and should be avoided.
Original story below…
——
NOTTINGHAM, MD—The National Weather Service has issued a Severe Thunderstorm Warning and a Flash Flood Warning for the Nottingham area.
The thunderstorm warning will be in effect until 3:45 p.m. and the flood warning will be in effect until 9 p.m. on Thursday.
At just before 3 p.m., a severe thunderstorm was located over Carney and is nearly stationary.  There are 60 mph wind gusts associated with this storm.
Damaging winds will cause some trees and large branches to fall. This could injure those outdoors, as well as damage homes and vehicles. Roadways may become blocked by downed trees. Localized power outages are possible. Unsecured light objects may become projectiles.
Doppler radar also indicated heavy rain due to thunderstorms. Flooding is ongoing or expected to begin shortly in the warned area. Between 1 and 3 inches of rain have fallen.
These warnings affect Towson, Parkville, Carney, Perry Hall, Rosedale, Overlea, Fullerton, Rossville, Golden Ring, White Marsh, Fallston, Hampton, Kingsville, Joppa, Lutherville-Timonium, Nottingham, Glen Arm, and Fork.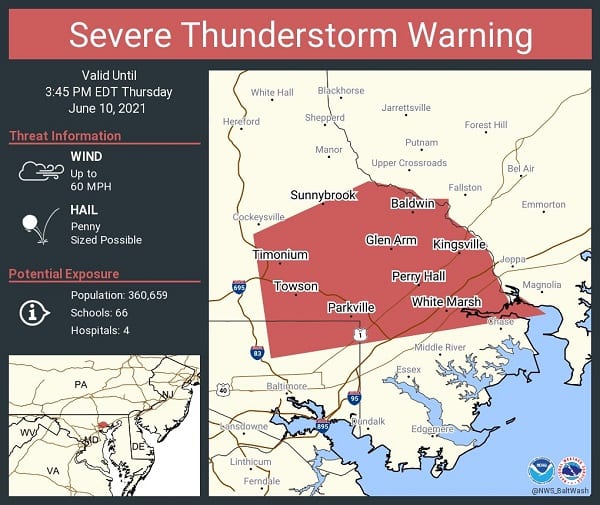 Advertisement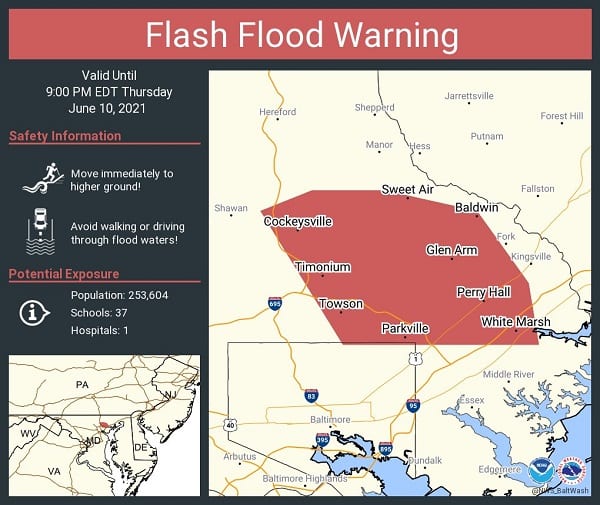 Facebook Comments