UPDATE: Three adults and one pediatric are being transported to a local hospital. A fifth adult has now been extricated almost 40 minutes into the incident and will be transported shortly.
UPDATE: WMVFC reports that one patient is still trapped after 30 minutes.
Original story below…
———
WHITE MARSH, MD—Crews are on the scene of a serious, Saturday afternoon crash in White Marsh.
The crash was reported at around 3:45 p.m. on E. Joppa Road at the Interstate 95 overpass.
Several patients are trapped at the scene.
Units from White Marsh Volunteer Fire Company, Kingsville Volunteer Fire Company, and the Baltimore County Fire Department.
Medevac was requested but is not flying due to the weather.
Motorists should avoid the area.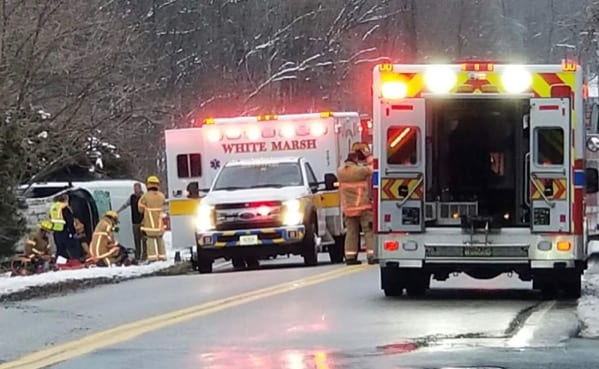 Advertisement
[Images via Kingsville Volunteer Fire Company, White Marsh Volunteer Fire Company]
Facebook Comments