UPDATE: A second winter storm may also impact the Baltimore area.
Original story below…
———
NOTTINGHAM, MD—Following a chilly weekend, winter weather is set to impact the Baltimore area early next week.
The National Weather Service says seasonable temperatures are expected on Saturday night with lows in the 20s.
The next chance for widespread precipitation will be on Monday and into Tuesday morning with a wintry mix likely across much of the region.
On Monday afternoon and evening, rain and snow will mix with freezing rain and sleet, causing hazardous driving conditions. Forecasters say the chance of precipitation is 100%.
The freezing rain will persist into Tuesday morning before changing over to all rain after 8 a.m.
There is also a chance for snow on Wednesday and Thursday.
Residents should stay tuned to their local forecast.
Advertisement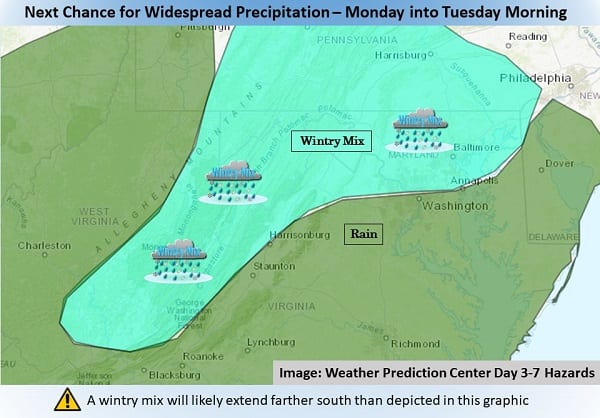 Facebook Comments