ESSEX, MD—Stacy Barry, a resource teacher in the BCPS Office of Innovation and Digital Safety, has been named 2020 Maryland Outstanding Leader Using Technology by the Maryland Society for Education Technology (MSET), and Kimberly Burton-Regulski, mathematics department chair at Eastern Technical High School, has been named that group's 2020 Maryland Outstanding Educator.
Both women will be honored at MSET's Common Ground 2020 conference, April 30 – May 1, at the Ocean City Convention Center.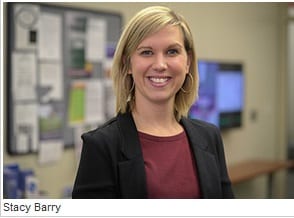 Barry earned a bachelor's degree in elementary education from Villa Julie College and a master's degree in instructional technology from Towson University. She has been an educator in BCPS for 11 years, spending six years teaching Grades 2 and 3, as well as library media. In her current position, she supports elementary schools with innovative technology practices. She has been recognized as a Microsoft Innovative Educator, as well as a Tech4Learning Innovative Educator. In addition to her regular responsibilities around planning and facilitating professional development on blended learning and effective use of the learning management system, Barry has made successful efforts to broaden the scope of technology-related professional development to BCPS. She has also served as the project manager for the Innovation HUB, an evolving project that will help teachers leverage the ISTE Student Standards to deepen teacher practice.
In nominating Barry, David Robb, supervisor of Blended Teaching & Learning, wrote: "Typically, resource teachers in BCPS primarily support classroom teachers. Over the years, leadership has taken notice of the skill, professionalism, and inventive thinking Mrs. Barry has brought to coaching teachers and providing professional learning opportunities in formal and informal settings. This has led to requests for Mrs. Barry to plan and facilitate professional learning to administrators, central office leadership, professional learning coaches, and more. The specific requests for Mrs. Barry's support speak to the extensive value she brings to BCPS."
Burton-Regulski has taught mathematics and computer science at Eastern Tech for 21 years. She has earned a bachelor's degrees in mathematics and computer science from Towson University and a master's degree in advanced information technology from Stevenson University. She has been instrumental in building the computer science program at Eastern Tech. Eastern Tech now requires all 9th grade students to take Foundations of Computer Science. Burton-Regulski is also the innovation coordinator for Eastern Tech's comprehensive Makerspace and a College Board consultant. In 2009, Burton-Regulski was awarded the Presidential Award for Mathematics and Science Teaching. Her other honors include being named Teacher of the Month by Code.org, Microsoft Innovative Educator, and the NCWIT Aspirations in Computing Educator. She sponsors a Girls in STEM club and the Maverick Coding Club. She also teaches a Teaching Computer Science in the Secondary Schools course for Towson University.
In nominating Burton-Regulski, Eastern Tech STAT teacher Jayme Harget wrote: "Kimberly Burton-Regulski has a significant positive impact on technology use locally, regionally, and nationally. She exhibits leadership in her school with a vision of technology infusion that has resulted in the development of a makerspace and an elective course in Innovation & Design Thinking. Through the application of Design Thinking, her work empowers learners to flourish in a connected world by cultivating a passionate learning community and an empathy for others…She believes that in order to best serve her students she must be forward-thinking and willing to learn new technologies and new teaching strategies."
Facebook Comments