NOTTINGHAM, MD – As fall approaches and schools are back in session, all eyes are currently focused on Hurricane Dorian.
The powerful storm has already decimated the Bahamas and, despite early forecasts, it now appears that Florida and Alabama will be spared as the storm looks to make landfall in Georgia or the Carolinas.
On Wednesday afternoon, the National Weather Service issued a Tropical Storm Watch for portions of southern Maryland as forecasters anticipate the storm's trek up the east coast.
A Tropical Storm Watch has been issued for St. Mary's County and the surrounding coastal waters through Saturday.
Story continues below
Gusty winds and squalls will be possible beginning Friday afternoon and continuing through Saturday.
See Hurricane Dorian's projected path and steps you can take to prepare here.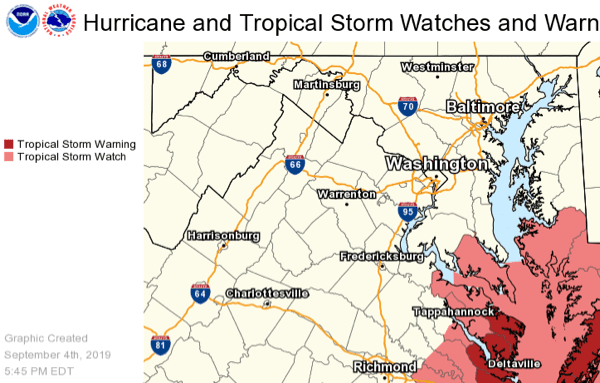 Facebook Comments