TOWSON, MD – County Executive Johnny Olszewski announced on Thursday that the Baltimore County's anti-litter outreach campaign, "Litter Doesn't Stop Where it Drops", won a prestigious international award for its artistic imagery and clear messaging that highlights the connection between litter and its damaging effect on aquatic life, including the seafood that we eat.
The ads, designed by the Towson advertising firm Pinnacle Communications Resource Company, ran on buses, trash cans, social media and other locations.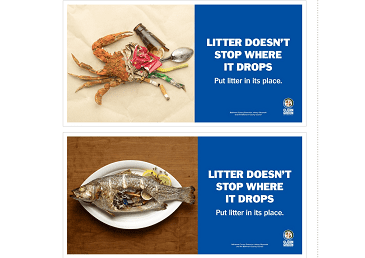 "Litter is an unsightly issue in many of our neighborhoods and in our waterways," said Olszewski. "We are reminding people that litter has long-term consequences that can be easily prevented by all of us being mindful of its effect on the environment by making simple changes to how we dispose of our trash and recyclables."
Advertisement
The Department of Environmental Protection and Sustainability's "Litter Doesn't Stop Where it Drops" ad campaign, which launched this spring, took bronze in the international 2019 Summit Creative Awards. The awards series recognizes advertising worldwide and is considered the premier arbiter of creative excellence for small and medium advertising firms. The winning ad was selected from more than 4,500 submissions from 27 countries and was among only 11% of total entries that won an award.
The campaign features a stylized photograph of a steamed Maryland blue crab with part of its body replaced with pieces of litter. The outreach campaign illustrates how litter can hit the ground and be carried away by wind or rain down the nearest storm drain and into streams and the Chesapeake Bay. Additional ads will be running in the upcoming months.
Facebook Comments