PERRY HALL, MD – Due to safety concerns along Belair Road within the Gunpowder Falls State Park – Central Area, parking will be prohibited near the State Park entrance beginning Wednesday, July 3, 2019.
The Maryland Department of Transportation State Highway Administration (MDOT SHA) will post "No Parking" signs along US 1 between Miller Road and Mount Vista Road, and the Baltimore County Police Department will enforce the parking restrictions. While meeting with partners from the Department of Natural Resources, Baltimore County Police, as well as state and local officials, the decision was made collectively to prioritize safety and remove the parking in question.
In June, MDOT SHA began a new $3.6 million project to rehabilitate the US 1 bridge over the Gunpowder Falls and the trail tunnel underneath US 1 within the Gunpowder Falls State Park – Central Area. Since then, safety concerns have been raised about pedestrians, bicyclists, and motorists who park along US 1 and within the State Park's main parking area, recently reduced due to construction work on the bridge and tunnel. Each year, an average of 25,000 vehicles per day travel on this section of US 1.
Additionally, on Thursday, August 1, MDOT SHA and DNR will close the Gunpowder Falls State Park – Central Area vehicular entrance and parking lot along northbound US 1 for the remainder of construction work, which is expected to be complete fall 2020. Motorists can expect single lane closures on US 1 between Miller Road and Sheradale Drive during off-peak hours. The shared driveway to the MDOT SHA Commuter Park and Ride lot along southbound US 1 and the Gunpowder Lodge restaurant's private parking lot will remain open.
Story continues below
The project includes enhancements to the State Park, such as stabilization of the connector pathway from the main State Park parking lot to the trail tunnel and stabilization of the trails. These improvements include placing brick and gravel to reduce the amount of water and mud that builds up on the trails during rainstorms, replacing two parking lot gates and re-staining existing timber traffic barriers in the parking lots.
MDOT SHA's contractor is Marine Technologies, Inc. of Baltimore. Click here for more information on the project.
In making this announcement, MDOT SHA officials thanked the community for their patience and understanding during the construction process.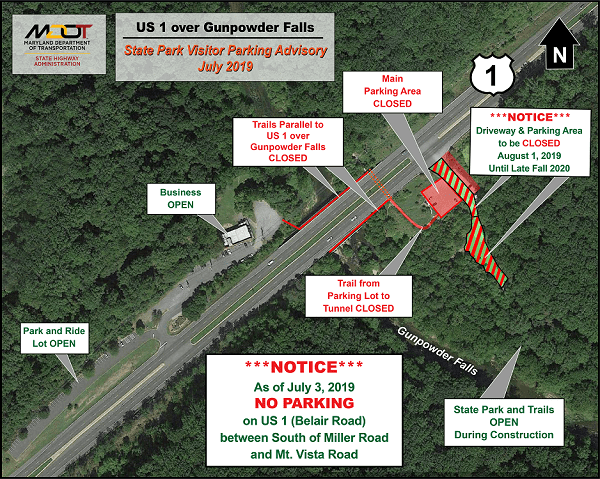 Facebook Comments