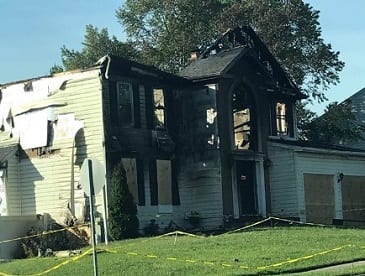 UPDATE: A fundraiser has been planned to help the homeowner – click here for details.
NOTTINGHAM, MD – The community is coming together to support a Nottingham house fire victim.
The fire broke out on Saturday morning in the 8500-block of Hanf Avenue (21236). It took crews from multiple fire companies several house to extinguish the blaze.
The occupant was not home at time, but a family dog was reportedly lost in the fire.
Story continues below
Six career stations responded: Perry Hall Station 55; Fullerton Station 8; Golden Ring Station 16; Middle River Station 12; Chase Station 54; and Brooklandville Station 14.
Additionally, three volunteer stations assisted: White Marsh Volunteer Fire Company 200; Providence Volunteer Fire Company 290; and Kingsville Volunteer Fire Company 480.
"This was a significant incident that involved personnel from Middle River to Towson," said Councilman David Marks. "I would like to thank all of the firefighters and other rescue personnel who responded. Their heroism makes us proud every day, but particularly in horrific situations like this one."
Facebook Comments