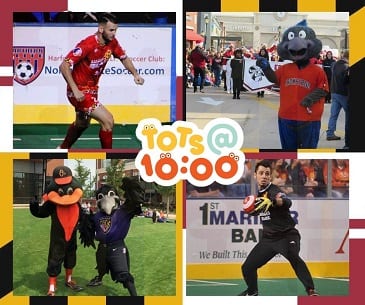 The Avenue at White Marsh's Tots at 10 program will have some special visitors next month.
On June 6th from 10 a.m. to noon, Tots at 10 will be welcoming Baltimore Ravens mascot Poe, the Oriole Bird from the Baltimore Orioles, Testudo from the University of Maryland, and the Aberdeen IronBirds mascot, Ferrous.
Also on hand will be Baltimore Blast soccer stars William Vanzela and Elton De Oliveira, who will be hanging out with Crab Kickers on the turf.
In addition, attendees can meet Sneaks the Cat from the Baltimore County Library and Princess Palace Parties will be bringing a princess.
Tots at 10 takes place at The Avenue on the first Thursday of each month, April through October, from 10 a.m. to noon.
The morning features entertainment and activities geared toward children ages 5 & under.