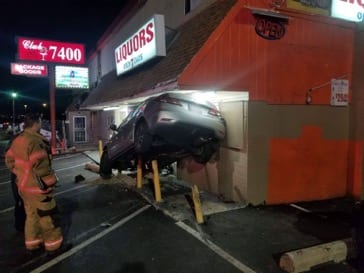 UPDATE: Club 7400 has been closed and the structure has been condemned due to damage sustained in the crash.
Police have determined that a Honda Civic traveling westbound on Pulaski Highway at 66th Street lost control, entered the parking lot of Club 7400 and struck a parked Nissan Quest which was pushed into a parked Toyota Camry.
The Honda then continued onto a steel safety pylon at the front entrance of the liquor store area of the building, striking the building.
A rear passenger in the Honda was transported to an area hospital with a serious but non-life-threatening injury.
Original story below…
——
Emergency crews responded to a crash in Rosedale on Friday night.
At around 8 p.m., a vehicle crashed into the Club 7400 liquor store, located in the 7400-block of Pulaski Highway.
Injuries were reported, but there was no word on their severity.
There has been no update on what led to the single-vehicle crash.
Facebook Comments