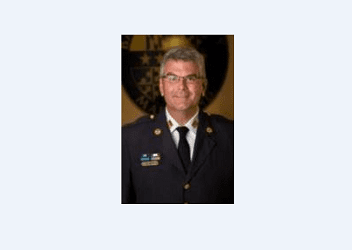 Baltimore County Fire Chief Kyrle W. Preis III announced on Thursday that he would  retire on December 31, 2018, to begin a new career in the private sector.
At the request of County Executive John Olszewski, Jr., he will serve for several months as a transition advisor to the County Executive.
Olszewski has named Assistant Chief Jennifer L. Aubert-Utz to serve as Acting Fire Chief beginning January 1, 2019.
"I want to express my sincere thanks to Chief Preis for his 28 years of service to the residents of Baltimore County," Olszewski said. "He has provided valuable insight into Baltimore County's Fire and EMS operations, and I want to thank him for continuing to assist us in the coming months as we work to build a better Baltimore County."
Story continues below
Chief Preis, 52, informed County Executive Olszewski earlier this week of his decision to retire. He was appointed in 2017 by the late County Executive Kevin Kamenetz; he replaced John J. Hohman, who retired after a long tenure as Fire Chief. A life member of the Kingsville Volunteer Fire Company, Chief Preis has served on numerous professional boards including the Maryland EMS Board, which oversees budgets for the Maryland Institute for Emergency Medical Services Systems, Shock Trauma, Maryland State Police Aviation Command and the University of Maryland Fire and Rescue Institute.
"I truly believe that the Baltimore County Fire Department has given me the most rewarding career one could have," Chief Preis said.
Assistant Chief Aubert-Utz, 45, is an 18-year Baltimore County Fire Department veteran. She began as a Firefighter/EMT and has held every rank in the Department up to Assistant Chief. Aubert-Utz holds a master's degree from Johns Hopkins University in Management with a focus on public safety and leadership. She also earned the National Fire Academy's Executive Fire Officer designation.
"In nearly two decades of service to Baltimore County, Assistant Chief Aubert-Utz has earned the respect of her colleagues and our residents," Olszewski said. "She has the experience and talent to guide the Department through this transition, and I have great faith in her ability to lead the fire service."
Facebook Comments