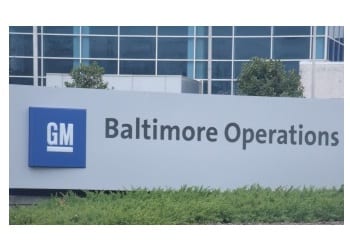 UPDATE: This story has been updated with statements from County Executive Don Mohler and Councilwoman Cathy Bevins.
Original story below…
——
General Motors announced on Monday that the company would be closing several plants across the U.S.
Among the plants to be shuttered is the facility located in White Marsh.
The company will lay-off close to 15,000 workers in the U.S. and shut down five plants.
The moves are being made to cut costs and to steer the company toward autonomous and electric vehicles.
Assembly plants that will be shuttered in 2019 include:
Oshawa Assembly in Oshawa, Ontario, Canada.
Detroit-Hamtramck Assembly in Detroit.
Lordstown Assembly in Warren, Ohio.
Propulsion plants that will be shuttered in 2019 include:
Baltimore Operations in White Marsh, Maryland.
Warren Transmission Operations in Warren, Michigan.
The White Marsh plant, located in the 10300-block of Philadelphia Road, has been open since 2000 and employs just over 300 workers.
Baltimore County Executive Don Mohler has issued the following statement regarding the planned shuttering of the GM plant:
"Baltimore County stands with the workers and their families who are part of a decades-long GM manufacturing legacy in Baltimore, from advanced hybrid motors in White Marsh to vehicle production at Broening Highway. Our workers are second to none.

"The county's workforce development team is available immediately to assist with job and career counseling services for the 300 GM workers whose jobs will be affected next year. The Eastpoint Career Center will help match GM workers with other employers looking for their skills in advanced manufacturing and connect them to training and job search workshops."
Sixth District Councilwoman Cathy Bevins also issued the following statement:
"I am deeply saddened by the news that General Motors has decided to shut down their White Marsh Plant. My heart goes out to all of the employees and their families in this difficult time. I have reached out to the county's Department of Workforce and Economic Development on how we can best help the employees of the plant. I will also work with the new administration to bring new jobs and opportunities to the 6th District."