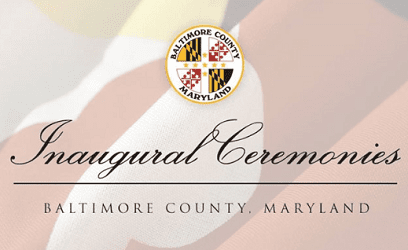 The Baltimore County Government Inaugural Ceremonies will be held at 10 a.m. on Monday, December 3, 2018.
The event will be held at SECU Arena at Towson University.
The following elected officials will be sworn into office:
County Executive
John A. Olszewski, Jr.
County Council
Tom Quirk, Izzy Patoka, A. Wade Kach, Julian E. Jones, Jr., David Marks, Cathy Bevins, Todd Crandell
Judges of the Circuit Court
Carey Deeley, Michael Finifter, Ruth Jakubowski, Dennis Robinson
Story continues below
Clerk of the Circuit Court
Julie Ensor
Register of Wills
Grace G. Connolly
Judges of the Orphans Court
William R. Evans, Juliet G. Fisher, Arthur M. Frank
Sheriff
R. Jay Fisher
Visit the event page on Facebook here for more information.
Facebook Comments