Governor Larry Hogan on Friday announced approval of an average 13.2 percent premium rate decrease for individual health insurance plans with an effective date of January 1, 2019.
These rates reflect the impact of Maryland's 1332 State Innovation Waiver, which creates a State Reinsurance Program to help stabilize Maryland's individual health insurance market and prevent previously-predicted massive rate hikes.
"Rather than huge increases in health insurance rates, we are instead delivering significantly and dramatically lower rates for Marylanders," said Governor Hogan. "For the first time since the Affordable Care Act went into effect, all individual insurance rates in Maryland will go down instead of up."
Maryland's 1332 State Innovation Waiver was the result of a bipartisan legislative effort. The waiver was approved by the Centers for Medicare and Medicaid Services on August 22, 2018.
Prior to approval of the waiver and creation of Maryland's Reinsurance Program, insurers had requested an average rate increase of 30.2 percent, with rate increase requests ranging from 91.4 percent to 18.5 percent across carriers. With the State Reinsurance Program in place, rate requests were amended by carriers to reflect its impact, and after rigorous review and scrutiny by the Maryland Insurance Administration (MIA), individual rates were ultimately approved at an average decrease of 13.2 percent, with decreases ranging from 17 percent to 7.4 percent across carriers.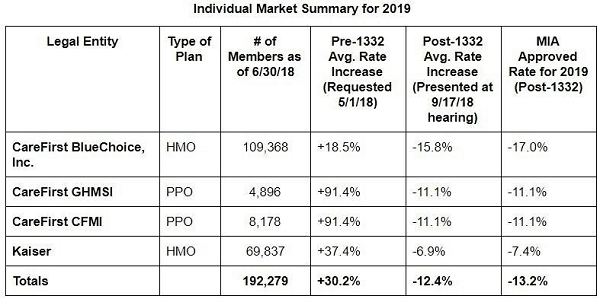 Advertisement
The State Reinsurance Program, coupled with the MIA's actuarial scrutiny and review of rate filings, resulted in average individual policy renewal rates that are 43.4 percent lower than what was originally filed, and 13.2 percent lower than 2018 premiums. The savings for 2019 individual market premiums is estimated to be $481 million. The actuarial review by the Maryland Insurance Administration represented $75 million in savings and the 1332 waiver resulted in $406 million of the total savings.
"As a result of these lower rates, the health insurance market in Maryland will finally have the chance to become more competitive and dynamic. This new, innovative program will lead to increased competition and more insurers entering the market, which will help make healthcare even more affordable for all Marylanders." said Governor Larry Hogan.
"I am incredibly proud of the bipartisan work we were able to accomplish this year under Governor Hogan's leadership," said Insurance Commissioner Al Redmer, Jr. "As a result of this effort, Marylanders in the Individual Health Insurance Market will receive a desperately needed decrease in premium rates. While this is a critical first step, it is only a temporary one. The MIA looks forward to working with the Governor's team and the General Assembly to achieve long-term rate stability and to enhance competition in this critical market."
Facebook Comments