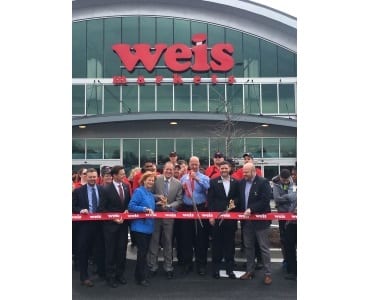 Weis Markets on Wednesday celebrated the grand opening of its new store in Fullerton Plaza in Nottingham.
The 67,500 square-foot supermarket, which anchors the re-built Fullerton Plaza shopping center, is the company's 52nd location in Maryland and twelfth in Baltimore County.
The store, which employs more than 140 full- and part-time associates, features a large produce department with an expansive organic selection, a service seafood department with sustainably-caught seafood, a service meat department with on premise, custom-cut Certified Angus Beef®, a deli offering a wide selection of meals to go including a hot foods bar and hand-rolled sushi, a full-service pharmacy, Weis 2 Go online ordering with curbside pickup and a Gas N' Go Fuel Center with six pumps.
Additional amenities include nearly 2000 organic and gluten-free grocery, dairy and frozen products and a European Fresh Flower Market with a variety of fresh flowers and mix-and-match bouquets.
"We are very pleased to further expand our service in the Baltimore area, and to anchor and revitalize the Fullerton Plaza shopping center," said Jonathan Weis, Chief Executive Officer for Weis Markets. "We are proud to open our twelfth store in Baltimore County and look forward to serving the many communities along the Bel Air corridor."
The Nottingham store was built with multiple sustainability measures, underscoring the company's commitment to reducing its carbon footprint chain-wide. These eco-friendly features include LED lighting to reduce electrical needs; low-flow devices to support water conservation efforts; energy control through demand response programs to reduce power usage during peak days and to reduce the store's load on the power grid; enclosed refrigeration cases to reduce energy use; and advanced refrigeration technologies to reduce refrigerant use by 60 percent when compared to conventional systems.
To commemorate the opening and thank the community for its warm welcome, Weis Markets donated $50,000 to the Maryland Food Bank. Weis also donated to local nonprofits including Rosedale Volunteer Fire Company, Rosedale Public Library, Shady Spring PAL Center, Overlea-Fullerton Recreation Council, and Parkville High School Marching Band.
On hand for the occasion were Councilman David Marks, Senator Kathy Klausmeier, Delegate Christian Miele, Delegate Joe Cluster, Perry Hall White Marsh Business Association Vice President Lynn Richardson, Perry Hall Improvement Association Vice President Karen Harms, Overlea Fullerton Rosedale Business Association President Donna Bethke, and Parkville Carney Business Association President/NottinghamMD.com CEO Chris Montcalmo.