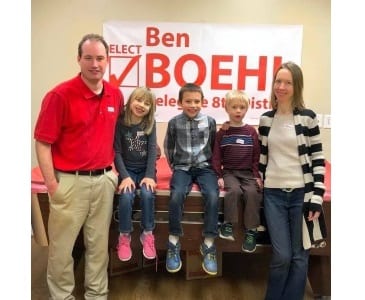 Former East County Times and Dundalk Eagle news reporter Ben Boehl has announced that he will run for the House of Delegates in District 8 as a Republican.
Boehl resides in Perry Hall with his wife Mary and children Andrew, Emily and Adam.
"I am a local guy who has been a life-long resident of Baltimore County. I am a product of Baltimore County Public Schools (BCPS) and a graduate of CCBC and Towson University. I am married with three kids who also attend BCPS," Boehl said.
"After working at the East County Times and the Dundalk Eagle for close to a decade, it gave me the opportunity to see the strengths and also the needs of our great communities in Carney, Fullerton, Nottingham, Overlea, Parkville, Perry Hall, and Rosedale."
As a parent, Boehl says he is aware of the overcrowded schools in northeast Baltimore County and would like to work with BCPS to secure state funding for that issue. Boehl saus he is also concerned about vacant properties in the 8th District and wants to improve the housing market.
"We need to encourage home ownership, instead of subsidized housing. We are starting to see too many vacant houses in District 8," Boehl said. "Homeownership creates personal pride and better communities. We should encourage first-time home buyers with property tax credits."
In his free time, Boehl also maintained a blog called "Benstorming" that focused on political and community news in eastern Baltimore County. He has also given a journalism scholarship to a student at his high school Patapsco High School Center for the Arts.
Advertisement
Boehl left journalism and joined Delegate Bob Long as a Legislative Aide in Annapolis in 2016. Boehl helped get bills HB 1253 (the Abandoned Sunken Vessel bill) and HB 1323 (a five-year tax credit for homeowners who revitalize vacant or rundown properties) passed and signed into law. He recently worked with Delegate Long on his Active Assailant Training bill and helped constituents resolve personal issues by working with BGE, MVA, MTA and other state agencies.
Boehl called it a "great experience" to work with Delegate Long as they both worked to help promote Governor Larry Hogan's agenda of lowering taxes and increasing jobs. Although, Boehl said that Annapolis has frustrating moments too.
"There are liberal members of the House of Delegates that continue to block Governor Hogan's agenda by trying to put more of a burden on working families and businesses across the state," Boehl explained. "The liberals still have enough members to derail our Governor's plans, but we have a chance to end their control by picking up more seats in the General Assembly. I have a chance to pick up a seat for Governor Hogan right here in the 8th District. "
For more information about Ben Boehl's campaign, visit www.electbenboehl.com.
Facebook Comments