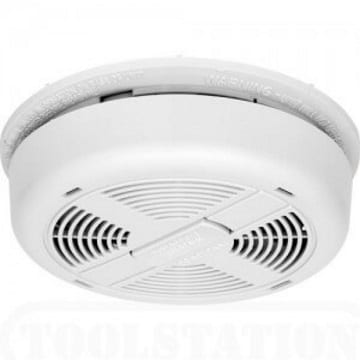 The Baltimore County Fire Department says it has heard from many residents with questions about Maryland's new smoke alarm law, which was signed in 2013 but includes some requirements that just took effect on January 1, 2018.
The following fact sheet will clarify the regulation and what it means for residents of the state of Maryland.
What the law requires now
Replacement of battery-only smoke alarms with new, 10-year smoke alarms with sealed batteries and a "hush" feature (to silence the alarm temporarily during cooking).
Replacement of hardwired devices more than 10 years old. Hardwired devices newer than 10 years still are acceptable.
Hard-wired devices must be replaced with hard-wired devices. You cannot replace a hard-wired alarm with a battery-only alarm.
What the law requires in the future
The law requires replacement of ALL smoke alarms — hard-wired and battery-only — when they are 10 years old. That means 10 years from the date of manufacture printed on on the back of the alarm. If you can't find a date, your smoke alarm needs to be replaced.
Smoke alarms lose their operational sensitivity after 10 years.
Hard-wired devices must be replaced with hard-wired devices.
What brand of alarm should I buy?
BCoFD does not endorse one manufacturer over another.
Smoke alarms are available at most home supply and "big box" retail stores and at many online retailers.
Alarms should comply with Underwriters Laboratory (UL) 217, "Standard for Safety for Single and Multiple Station Smoke Alarm."
What about rental properties?
The new law applies to rental properties.
However, the new requirements do not impact individuals in the County's rental registration program because the County's rental registration provisions do not permit battery-operated smoke detector units and require hard-wired smoke detectors.
Enforcement
The local fire code does not grant right of entry into privately-owned single- and multi-family dwellings.
Purpose of the law
The law was designed to achieve the most reliable smoke alarm coverage possible in older dwellings without requiring homeowners to run new wiring.
The law's overall purpose is reduction of fire deaths and injuries.
Studies of residential fire fatalities show that more than half of smoke alarms in these incidents failed to sound because the 9-volt battery had been removed. The sealed battery requirement eliminates that problem.
Placement of smoke alarms