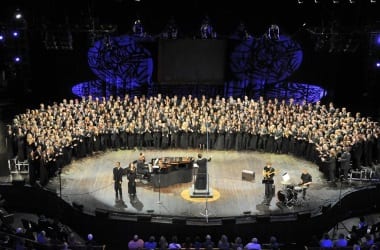 TOWSON, MD — Sixty-two Baltimore County Public Schools students were selected by audition to participate in the Maryland Music Educators Association's Junior and Senior All-State Choirs, Bands, and Orchestras. These groups will hold showcase performances throughout the area in March 2018.
"The selection to All-State Ensembles by so many of our students is in keeping with the rich musical tradition in BCPS," said Amy Cohn, coordinator of music and dance. "It speaks to thousands of hours of hard work on the students' part, and the tireless dedication of their teachers and loved ones."
In addition to their statewide honors, two of the students – Jenna Sciuto, an alto vocalist from Perry Hall High School, and Vincent Igusa, a bassoonist from Towson High School – were selected by audition for participation in the 2017 All-National Honors Ensembles. As members of these national ensembles, they performed Nov. 28 – 29 at Disney's Coronado Springs Resort at Walt Disney World in Orlando, FL.
"Mr. Igusa's and Ms. Sciuto's participation in All-National Ensembles represent the highest levels of musical achievement for high school students," said Brian Schneckenburger, supervisor of music and dance. "We congratulate the students, their families, and their school communities on this wonderful honor."
This past spring, Baltimore County Public Schools was honored with the Best Communities for Music Education designation from The NAMM Foundation for the 12th consecutive year and 13th overall. BCPS is one of 4% of districts across the nation receiving the prestigious award in 2017.
BCPS Students in Maryland Music Educators Association's – Junior and Senior All-State Choirs, Bands, and Orchestras
Junior Band
Dulaney High School
Katie Urrutia, bass clarinet
George Washington Carver Center for Arts and Technology
Emily Friedman, trombone alternate
Ridgely Middle School
Yiyon Li, clarinet
Towson High School
Zhenga Nie, clarinet
Junior Chorus
Cockeysville Middle School
Taylor Gonce, soprano
Dulaney High School
Aidan Slowey, bass
Patapsco High School and Center for the Arts
Carlos Pagan-Cruz, bass
D'Nayah Simmons, soprano
Perry Hall Middle School
Sarah Glock, alto
Ridgely Middle School
Cooper Bruno, tenor
Mairead DeBrabander, alto
Brian Paquette, tenor
Grace Volpe, soprano
Towson High School
Julianna Bullis, soprano
Joshua Crihfield, bass
Grace Null, soprano
Junior Orchestra
Dulaney High School
Kathy Yao, violin II
Ridgely Middle School
Emily Chamish, string bass
Emily Chen, violin II
Rebecca Ruggles, string bass
Brandon Yoon, violin I
Senior Chorus
Eastern Technical High School
Prasanna Varadhan, alto, treble chorus
George Washington Carver Center for Arts and Technology
Christopher Lottes, bass, mixed chorus
Aimee Strong, soprano 1, treble chorus
Christina Wills, tenor, mixed chorus
Hereford High School
Esther Yu, soprano 2, treble chorus
Patapsco High and Center for the Arts
Kaci Keaton, alto, treble chorus
Perry Hall High School
Alexis Arthur, soprano 2, treble chorus
Dennis Bailey, tenor, mixed chorus
Jade Chen, alto, treble chorus
Alex Duong, tenor, mixed chorus
Ciara Franklin, soprano 2, treble chorus
Nicholas Hamilton, bass, mixed chorus
Nyante McKenzie, alto, treble chorus
Rachel Nguyen, soprano 2 alternate
Jenna Sciuto, alto, treble chorus
Towson High School
Julia Batavick, soprano 2, mixed chorus
Debra Clerman, alto, treble chorus
Amelia Glickin, alto, treble chorus
Grace Heinlein, alto alternate
Elijah Johnson, tenor, mixed chorus
Liam Jones, tenor, mixed chorus
Grace Kelly, alto, mixed chorus
Mason Miller-Breetz, bass, mixed chorus
Aaron Weeks, bass, mixed chorus
Gretchen Young, soprano 2, mixed chorus
Senior Band
Catonsville High School
Adrian Sims, trombone
Dulaney High School
Sarah Shen, flute
Adabelle Xie, flute
Perry Hall High School
Cory Lewis, trumpet
Senior Orchestra
Catonsville High School
Lucas Gorlin-Tarbell, bass alternate
Dulaney High School
Anna Boland, clarinet
David Chen, violin II
Megan Zhang, clarinet
Eastern Technical High School
Jane Lee, viola
Hereford High School
Sarah Bennett, cello
Maya Seitz, viola alternate
Towson High School
Luke Guonjian-Pettit, trumpet
Vincent Igusa, bassoon
Suming (Alan) Mao, piano
Rey Sasaki, violin II
Andrew Schuck, French horn alternate