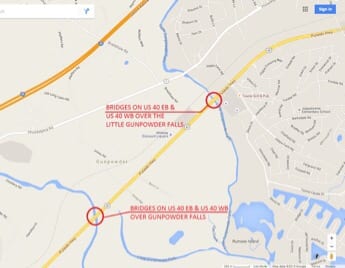 Governor Larry Hogan has approved over $12 million for bridge rehabilitation to bridges along Route 40.
The repairs will include the bridges over both the Little Gunpowder and Gunpowder Falls, according to the White Marsh-Cowenton Community Association.
These bridges are in need of restoration, having originally been built in 1934.
Work performed will include:
– Replacement of steel and concrete girders
– Replacement of driving surface
– Widening to provide a continuous 10-ft outside shoulder
The construction project is expected to begin in early 2018.