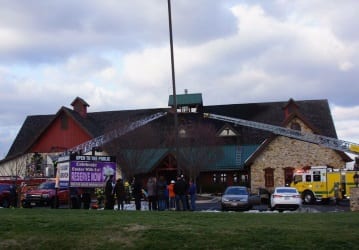 A cause has been revealed in the fire that broke out at Mountain Branch Golf, Grille, and Pub over the weekend.
At just after 5:30 p.m. on Sunday, March 19, emergency personnel responded to a reported building fire at Mountain Branch, 1827 Mountain Road in Joppa.
First-arriving units reported fire showing from the cupola of the two-story restaurant. Additional resources were requested because there are no fire hydrants near the building.
The fire was brought under control in about 30 minutes. No injuries were reported. Office of the Maryland State Fire Marshal determined that the fire was accidental, caused by an unknown fault with Christmas-style lights.
Damage has been estimated at about $10,000.
Route 152 was closed for about an hour during the fire.
The following fire companies assisted:
Abingdon Fire Company
Fallston Volunteer Fire and Ambulance Co.
Kingsville Volunteer Fire Company
The Bel Air Volunteer Fire Company
Aberdeen Proving Ground Fire & Emergency Services
Level Volunteer Fire Company