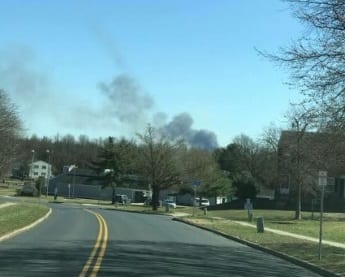 A plume of smoke visible for miles is nothing to be alarmed about, according to the White Marsh Volunteer Fire Company.
WMVFC said on Wednesday that it had received multiple calls related to smoke in the area.
The cause was determined to be a large range fire contained to Aberdeen Proving Ground.
Joppa-Magnolia Volunteer Fire Company also confirmed that the smoke was coming from APG.
WMVFC said it had received the most calls from the Chase (Eastern Avenue/Oliver Beach/Ebenezer Road) area.
LARGE RANGE FIRE ON #ABERDEENPROVINGGROUND CAUSING SMOKE TO BE VISIBLE IN SOUTHERN #HarfordCounty. PHOTO CREDIT CHRISTOPHER BRANDT. pic.twitter.com/8M1exSGOLn

— Harford Fire Blog (@HarfordFireBlog) March 8, 2017