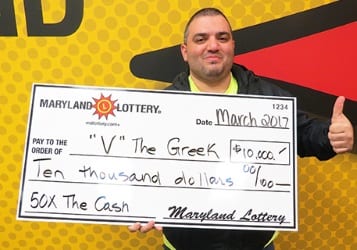 With his last pizza delivery completed, an Essex man decided that he had earned a cold soda after his long night of work.
Turns out his soda came with a side order of $10,000 from the Maryland Lottery.
The delivery driver stopped at Royal Farms #104 at 1010 Old Eastern Avenue in Baltimore, where he purchased a Maryland Lottery instant ticket that delivered his five-figure prize.
"I play a lot," said the 38-year-old, "almost every day." After picking out his beverage, he selected a $10 50x The Cash scratch-off to take home. "I had never bought tickets there before so I thought I'd give it a try, especially when I saw that they had my favorite game."
He told Lottery officials that he's had a good deal of luck with the 50x The Cash game in recent weeks. When he scratched off his ticket at home, he couldn't believe his eyes.
"I saw the '50x' right away and I caught my breath," he said. "Then, I saw the $200 beneath and knew immediately that it was a $10,000 winner. Boy, did I sleep well that night!"
The loyal player plans to put his winnings in the bank for future use and says he'll keep playing the 50x The Cash game.