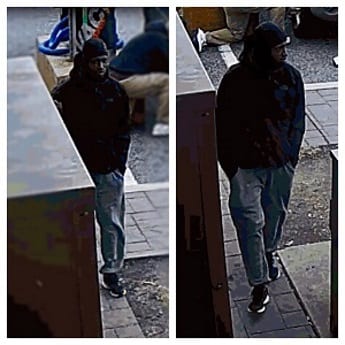 Police in Baltimore County are seeking assistance from the public in identifying a suspect who knocked down and robbed an 85-year-old man in Essex.
The suspect watched and then followed the elderly man after he used the ATM at the Royal Farm store in the 1600 block of Middleborough Road in Essex on December 30, 2016. After crossing the street, the suspect knocked the man down, robbed him, and fled the scene on foot.
The suspect is a black male age 20 – 25, approximately 5'10" and around 170 pounds. At the time of the robbery he was wearing gray sweatpants, a black jacket, black Nike sneakers with white soles and a white Nike emblem on the side. He wore an open face mask during the robbery.
Surveillance video from the Royal Farm store captured the suspect walking around just prior to the robbery.
This case continues to be investigated by the Investigative Services Unit of Precinct 11.
Anyone with information is asked to contact police at 410-307-2020.
Video below.
Facebook Comments