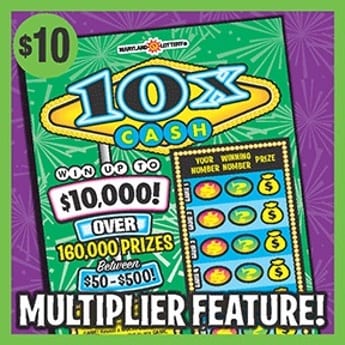 It's been a busy week in northeastern Baltimore County for Maryland Lottery players.
After a winning ticket was sold in Rosedale earlier this week, a lucky White Marsh woman was feeling 10 times better after she scratched off a 10x Cash instant ticket. The popular $10 game still has 64 top prizes remaining, along with thousands of prizes of $10 to $1,000.
The 69-year-old was thrilled when a 10x symbol appeared on her winning ticket. At first, the White Marsh resident thought she had won a small prize but became excited when she uncovered a $1,000 symbol, multiplying her prize to $10,000. She said she remained calm, but was struck by the impact
"I am so blessed," said the winner.
A previous Lottery win gave the lucky woman much-needed relief from some large bills. This time around, she plans to use her winnings on something a bit more fun – a new car.
The home of her lucky scratch-off was Kwik Mart #2 located at 901 A Middle River Road in Middle River.