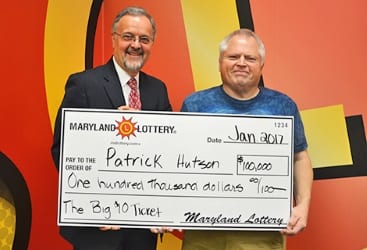 Last year, when Patrick Hutson won $140 on a Maryland Lottery ticket, he started setting his sights on more wins. His next couple goals of $500 and $1,000 were met soon after. After that, his next goal was to win $5,000.
"I figured it would take a while for me to hit $5,000," said the Baltimore resident. "Little did I know that I would win $100,000 so soon!"
Every Monday, Patrick goes out to dinner with his sister and her family. On their way home this week, he decided to stop at Niki Food Mart and Lottery at 6301 Kenwood Avenue in Rosedale to pick up some scratch-offs, including one "The Big $10" ticket.
"I had already scratched a few that were not winners when I got to this ticket," the 55-year-old told Lottery officials. "I saw that I matched one of my numbers, and like I always do, I scratched the prize amount really slowly. Once I saw that it was a $100,000 prize, I grabbed my magnifying glass to make sure I wasn't seeing things."
He then showed the ticket to his sister and her husband, who also accompanied him to claim the prize at Lottery headquarters.
"Pat does so much for others," said his sister, Sue. "He volunteers and helps out so many people. I'm really happy for him. He deserves this more than anyone I know."
The semi-retired winner will use some of his prize money for previously planned vacations and home repairs.
For selling the winning ticket, Niki Food Mart and Lottery will receive a $1,000 bonus. The Big $10 Ticket, which launched in November, still has five unclaimed $100,000 top prizes, 24 unclaimed $10,000 prizes and thousands of additional prizes ranging from $10 to $1,000.