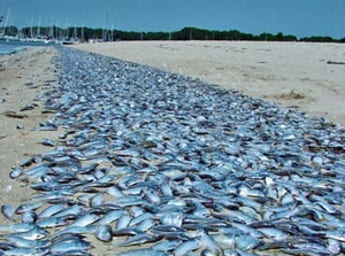 The state is investigating the deaths of nearly 6,000 fish in Baltimore County waterways this month.
The Maryland Department of the Environment says the dead fish were spotted in local waterways, including the Gunpowder River and Bird River.
MDE spokesperson Jay Apperson says that preliminary results would seem to indicate that algae-created toxins are the probable cause.
The fish kill has affected at least nine species of fish, including yellow perch, bluegill sunfish, largemouth bass, pumpkinseed sunfish, black crappie, carp, gizzard shad, spottail shiner, and channel catfish.
Residents are advised to avoid contact with the dead fish or wash their hands if they need to handle them.
"Monitoring has shown elevated cell counts of Karlodinium venifecum algae in the Gunpowder River," Apperson said. "We are awaiting results of laboratory tests for algae toxins and of fish tissue. The investigation is ongoing."
Anyone with additional information on fish kills or environmental concerns involving the Chesapeake Bay or its tributaries should contact the Bay environmental hotline at 877-224-7229.