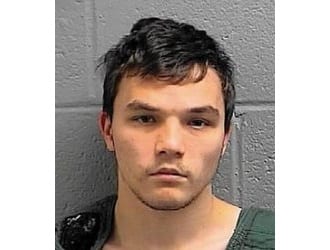 A Perry Hall man faces attempted murder charges after allegedly trying to kill his grandmother in Carroll County.
Alexander Carter Fields, 20, has been charged with attempted first-degree murder, first-degree assault, second-degree assault, reckless endangerment and attempting to injure with a dangerous weapon, according to online records.
Authorities say that, on September 20, officer responded to the Sykesville Apartments, where Fields had been staying with his grandparents.
In a statement to police, Fields' grandmother said she had been napping when she awoke to find Fields standing over her, holding a knife to her throat.
The grandmother managed to get to another room and began screaming for help. Fields, meanwhile, headed into the kitchen, grabbed a butcher knife, and reportedly started slashing at the door of the room in which his grandmother was hiding, according to the Carroll County Times.
A male neighbor heard screams, came to the apartment (after calling 911) and convinced Fields to drop the knife, according to Patch.com.
Fields was arrested on Monday after being released from a local hospital. He is being held without bail at the Carroll County Detention Center.
Fields had been released from a mental hospital in Delaware the day before the Sykesville incident, according to ABC2News.  Just a few weeks prior, he had also bitten his mother and hit her eye with a shoe. He then threw rocks at the police car that responded to that incident.
On August 16, he was charged with second-degree assault and two counts of malicious destruction of property greater than $1,000.