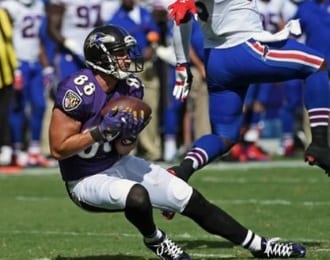 Another local sports legend is going to be signing autographs in White Marsh.
Baltimore Ravens tight end Dennis Pitta will be signing autographs at Great Moments on The Avenue at White Marsh on Friday, September 30, 2016.
The autograph signing will take place from 7:00 p.m. to 8:30 p.m.
Anyone who is unable to attend may send in or drop off their item to be autographed by Dennis Pitta for $50.00 per item. Inscriptions are also available for $20.00 each.
Items and orders are due by September 28th. Please remember to include return shipping.
Get more details at the Great Moments website by clicking here.