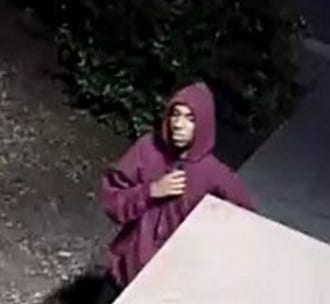 The Baltimore County Police Department is seeking the public's assistance in identifying two suspects responsible for an August 24 street robbery in Essex.
The investigation has indicated that sometime between 2 and 2:45 a.m. on August 24, a 21-year-old man left the Royal Farms store in the 1600 block of Middleborough Road 21221 after making a purchase. He walked up Middleborough Road and was approaching Hilltop Avenue when he was approached by two suspects. The suspects pointed handguns at him and demanded money and his cell phone. The suspects took the victim's cell phone, money, and box of Hot Pockets before fleeing the scene.
Pictures of the suspects were captured on video surveillance.
This incident is being investigated by the Precinct 11 Investigative Services Team. Anyone with information is asked to call police at 410-887-0230 or Metro Crime Stoppers at 1-866-7LOCKUP.