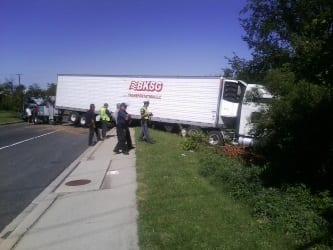 UPDATE: Here is the official report from Baltimore County regarding the crash:
Baltimore County Police are investigating a Monday afternoon crash on Eastern Boulevard involving a tractor trailer.
The preliminary investigation into the crash has indicated that around 1:14 p.m., a tractor trailer was exiting off of Route 702 to go west-bound Eastern Boulevard. Instead of heading west-bound on Eastern Boulevard, the tractor trailer crossed the west-bound lanes, crossed the median, and crossed east-bound Eastern Boulevard before coming to a stop. The driver of the tractor trailer was taken to an area hospital for treatment. He is expected to survive.
The tractor trailer did not hit any other vehicles.
East-bound Eastern Boulevard is closed at Route 702. The west-bound lanes are open.
This crash is under investigation by the Baltimore County Police Crash Team. That investigation is expected to take several weeks.
Original story below…
——
Emergency crews are responding to a crash that resulted in a hazmat leak in Essex on Monday afternoon.
At just after 1:00 p.m. on Monday, paramedics reported to the 400 block of Eastern Boulevard for a report of a crash.
At the scene, crews found that a tractor-trailer was involved in the accident.
Fuel is spilling onto the roadway and hazmat crews have been called to the scene.
Motorists should avoid the area.