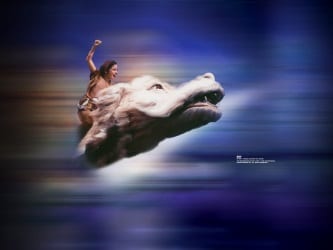 A legendary family film is returning to the big screen for a limited run in theaters.  "The NeverEnding Story," the classic 1984 coming-of-age adventure film that captured the hearts of children across the world, will be shown in select U.S. movie theaters on September 4 and 7 only at 2:00 p.m. and 7:00 p.m. (local time) both days.
In addition to the feature presentation, audiences will enjoy the theatrical debut of a featurette titled "Reimagine The NeverEnding Story" and an exclusive introduction from film critic Ben Lyons.
Fans will be able to enjoy the event in more than 500 select movie theaters, including AMC Loews White Marsh 16 on The Avenue at White Marsh. For a complete list of theater locations visit the Fathom Events website.
The classic film is about a boy who needs a friend and finds a world that needs a hero in a land beyond imagination. While avoiding bullies on his way to school, Bastian (Barret Oliver) ducks into a bookstore where he finds an intriguing book called "The NeverEnding Story." Despite warnings of the book's special powers, Bastian sneaks away and begins reading it in his school's attic. Through the twists and turns of the book's fantasy land, Fantasia, Bastian discovers that the kingdom needs the help of a human child to survive The Nothing – a darkness that threatens to destroy everything in its path. When Bastian reads a description of himself in the book, he begins to wonder if Fantasia may actually be real.
"'The NeverEnding Story' evokes a certain sense of adventure in everyone – the longing for a journey, a daring quest of bravery on which you learn your true merit through the winding road of unexpected challenges, is something we can all relate to,"" Fathom Events Vice President of Studio Relations Tom Lucas said.
Tickets can be purchased online at the Fathom Events website here.
You can view the original "The NeverEnding Story" movie trailer below.