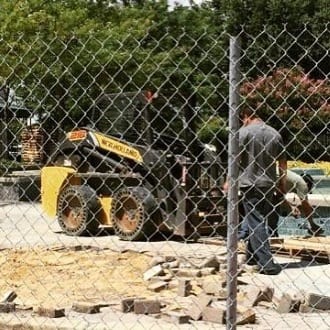 It's official.
Construction has begun on The Avenue at White Marsh.  A multi-million dollar renovation project got under way this weekend.
The Avenue plans to replace its iconic fountain with an outdoor ice rink, although a new water feature will be installed as part of the project.
From the official announcement:
Phase I will result in an enhanced gathering space to include a more comfortable gathering/entertainment space, increased seating in the common area, re-designed patio dining spaces, wi-fi accessibility, decorative lighting, a water/fountain feature, fire pits and drum roll please…a built in chiller system to allow for the installation and operation of a 60ft x 115ft outdoor ice skating rink during the winter season – complete with skate rentals and zamboni! We look forward to the Grand Opening of the rink this winter!
Approximately, 35 parking spaces will also be added as part of the project.
Check out video of the construction below, as well as an artist rendering of what The Avenue will look like when the project is completed…