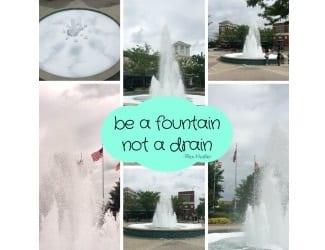 The time has come.
After serving as The Avenue at White Marsh's centerpiece for many years, the iconic fountain was closed down for the last time on Friday.
The Avenue's multi-million dollar renovation project, which was announced this spring, is now set to begin.
The project will include a new outdoor skating rink, more retail shops and enhanced dining and public gathering areas.
This winter, The Avenue will debut a new 60′ X 115′ ice-skating rink. Then, in 2017, a completely renovated plaza area will open. Improvements to the plaza will include interactive water features, fire pits, al fresco café dining areas, expanded shopping opportunities, and a new functional turf area. A total of 35 new parking spaces will also be added.
Don't worry, reps from The Avenue also say that a new fountain will open in place of the existing one that was permanently shut down on Friday.