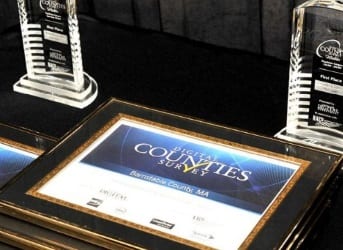 For the fifth consecutive year, Baltimore County has been ranked among the top ten counties in the U.S. according to the Center for Digital Government's 14th annual 2016 Digital Counties Survey in conjunction with the National Association of Counties (NACo).
Among the counties that participated, Baltimore County earned the sixth place ranking in the category for counties with populations of 500,000 or more. The award recognizes counties considered to be "digital leaders" in terms of aligning technology initiatives with strategic priorities to provide significant cost savings and administrative efficiencies.
"We came in seventh place last year and have worked our way up to number six this year, thanks to our highly talented and dedicated technology staff here at the County," said Baltimore County Executive Kevin Kamenetz. "While the ranking is nice, it's really gratifying that these outside experts recognize the tremendous strides we have made in harnessing technology to make our government work smarter and more efficiently so we can enhance the services we provide."
This year, the survey recognizes leading counties across the nation that focus their technologies and innovations to enhance the lifestyle of people in the county. Topics in the survey included: transparency in government, mobility and mobile application initiatives, citizen engagement, collaborative initiatives, cybersecurity, hiring and retaining competent staff, broadband and wireless infrastructure, efficiency, resiliency, and the use of innovative and best practices.
Baltimore County will be honored as a top-ranked county at the 2016 Digital Counties Survey Awards Reception during NACo's Annual Conference & Exposition in Long Beach, California and will receive the Digital Counties Survey Award. Additionally, winners will be featured in the Center's best practices and thought leadership white papers.
The Digital Counties Survey is hosted by the Center for Digital Government, a national research and advisory institute on information technology policies and best practices in state and local government. The organization also provides government, education and industry leaders with decision support, research and educational services to help them effectively incorporate new technologies in the 21st century. This survey is conducted in partnership with the National Association of Counties (NACo), a full-service organization that provides legislative, research, technical, and public affairs assistance to county governments.
Congratulations to the 2016 Digital Counties Survey Winners!
500,000 or more population category:
1st Wake County, NC
2nd Fairfax County, VA
2nd Montgomery County, MD
3rd Sacramento County, CA
3rd County of San Diego, CA
4th County of Alameda, CA
4th King County, WA
4th Miami-Dade County, FL
5th Oakland County, MI
6th Baltimore County, MD
6th Prince George's County, MD
7th Bexar County, TX
7th Orange County, FL
8th County of Ventura, CA
8th Hennepin County, MN
8th Westchester County, NY
9th Los Angeles County, CA
10th Chester County, PA
10th Cook County, IL
250,000-499,999 population category:
1st Sonoma County, CA
2nd Chesterfield County, VA
3rd Dakota County, MN
4th Loudoun County, VA
5th Cumberland County, NC
5th Dutchess County, NY
6th Bell County, TX
7th Leon County, FL
7th Ottawa County, MI
8th County of Santa Cruz, CA
9th Douglas County, CO
10th Dauphin County, PA
10th Richland County, SC
150,000-249,999 population category:
1st Arlington County, VA
2nd Charles County, MD
3rd Frederick County, MD
4th St. Tammany Parish, LA
5th Boone County, MO
6th Cabarrus County, NC
7th Davidson County, NC
8th Oneida County, NY
9th Delaware County, OH
10th County of Barnstable, MA
Up to 150,000 Population Category
1st Nevada County, CA
2nd Albemarle County, VA
2nd Allegan County, MI
3rd Roanoke County, VA
4th Montgomery County, VA
5th Brunswick County, NC
6th Coconino County, AZ
7th Goochland County, VA
7th Martin County, FL
8th Skagit County, WA
9th Franklin County, VA
10th Summit County, UT
10th Tompkins County, NY