Looking at Nottingham, Maryland as it exists today, one would hardly be able to tell that the area was once rich with airfields.
Little remains of these lost and forgotten air parks today.
How many of them do you remember?
Spamer Field; Nottingham, MD
Little is known about when Spamer Field was originally constructed.
The air park was not depicted on the 1945 Washington Sectional Chart, nor was it depicted on USGS topographical maps from the 1940s-70s.
The earliest depiction which has been located of Spamer Field, which was located at the intersection of Seven Courts Drive and Hickoryhurst Drive, was a March 26, 1956, USGS aerial photo.
It depicted an irregularly-shaped grass field with several small buildings at the southwest end, around which were parked 7 single-engine aircraft.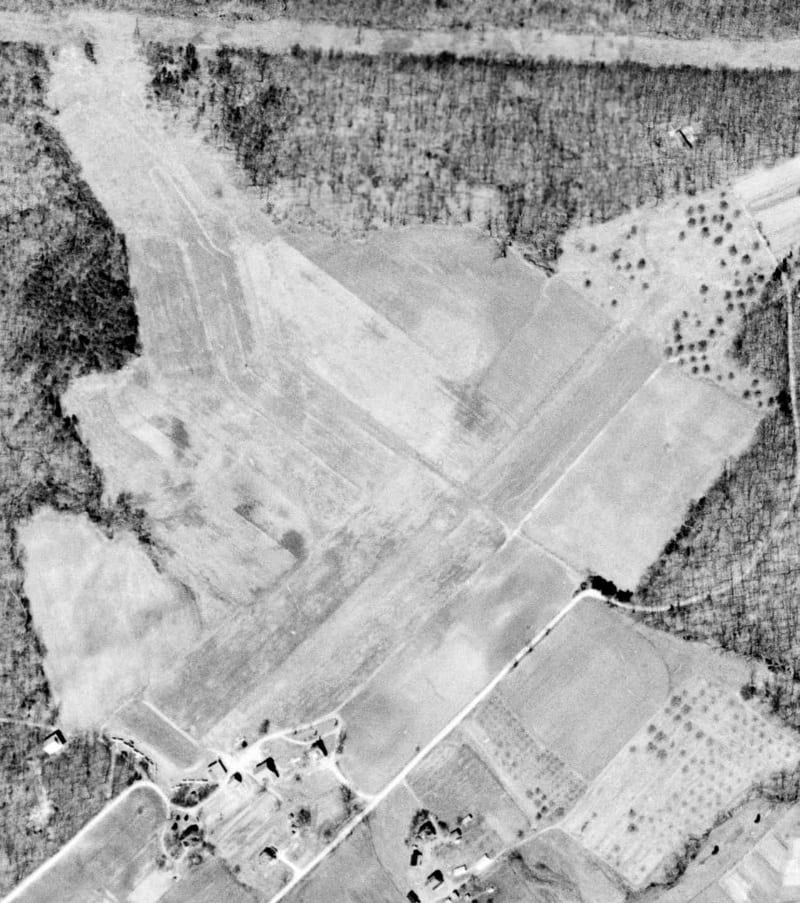 Jay Payne tells Airfields-Freeman.com, "Growing up in Perry Hall in the late 1950s & 1960s I remember Spamer Field.  There were a couple of hangars & a turf runway. They used to do a lot of skydiving mostly from a gull-winged Stinson.  There were a number of planes based there."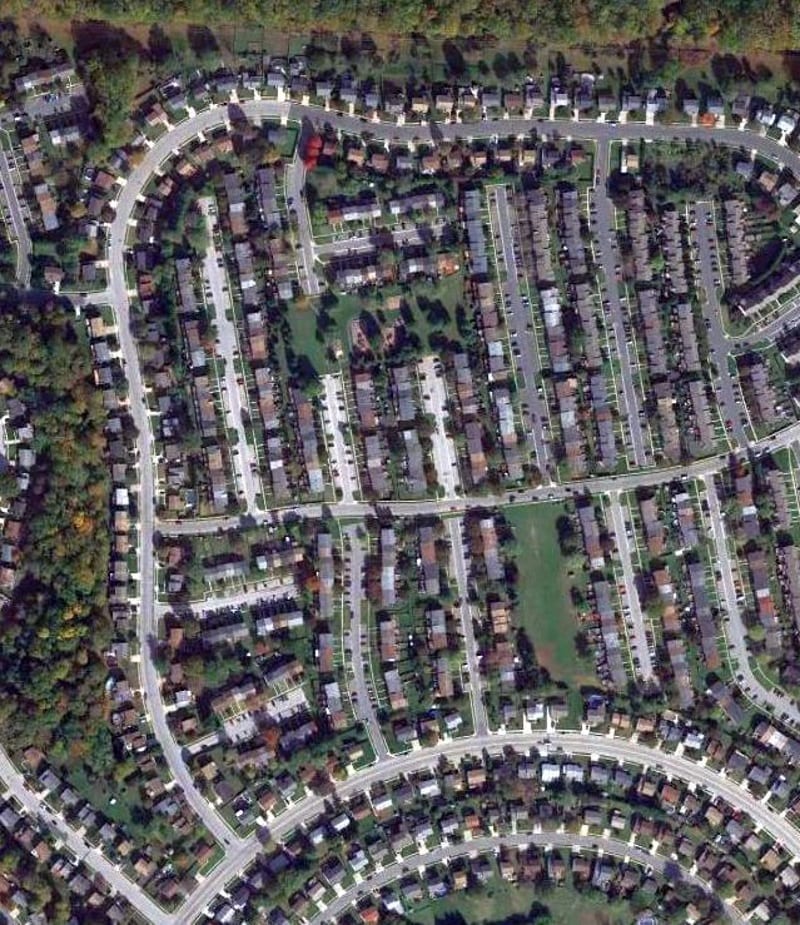 The last known photo which has been located showing aircraft at Spamer Field was a 1971 aerial view, which showed 8 light aircraft on the field.
A 1994 aerial view showed houses covering the site of the little airfield.
Nottingham Airport; Nottingham, MD
Not much is known about the "Nottingham Airport," including its date of establishment, or even its purpose.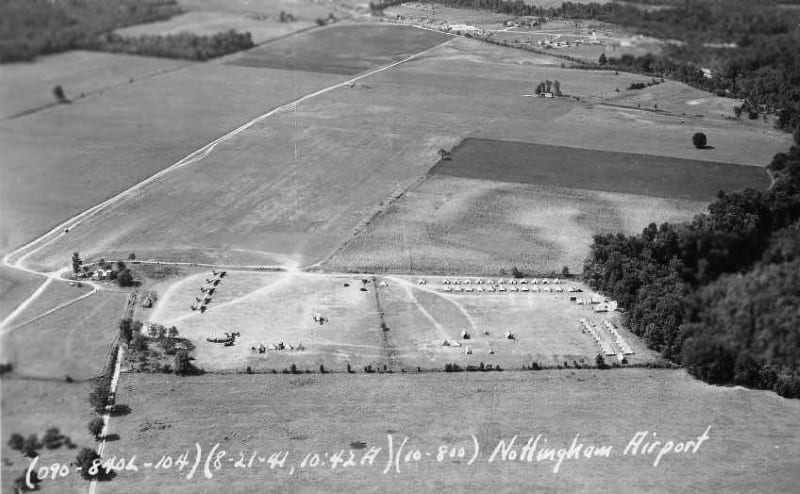 No airfield at this location was listed in the 1938 Commerce Department Descriptions of Airports & Landing Fields, nor was it depicted on the 1939 Washington Sectional Chart.
The only depictions which have been found of Nottingham Airport were a series of August, 1941, aerial photos by Frank Matricciani.
From various perspectives, they showed a large open grass field, on the side of which were a tent encampment, along with 7 single-engine aircraft.
All of the photos were captioned "Nottingham Airport."
Carmel Matricciani told Airfields-Freeman.com, "I had heard that it was where the present-day Best Buy is located near White Marsh Mall.  The gentleman I spoke with [Tony Serio] regarding his actual knowledge of the place said he flew into there in the early 1970s [or late 1960s] before the mall was built."
Nottingham Airport was located just south of the intersection of Interstate 95 and Campbell Boulevard.
Quinn Airport / Baltimore Airpark; Perry Hall, MD
Quinn Airport was a common site to many travelers along I-95, as the little airport sat adjacent to the west side of the busy interstate.
The date of construction of Quinn Airport has not been determined.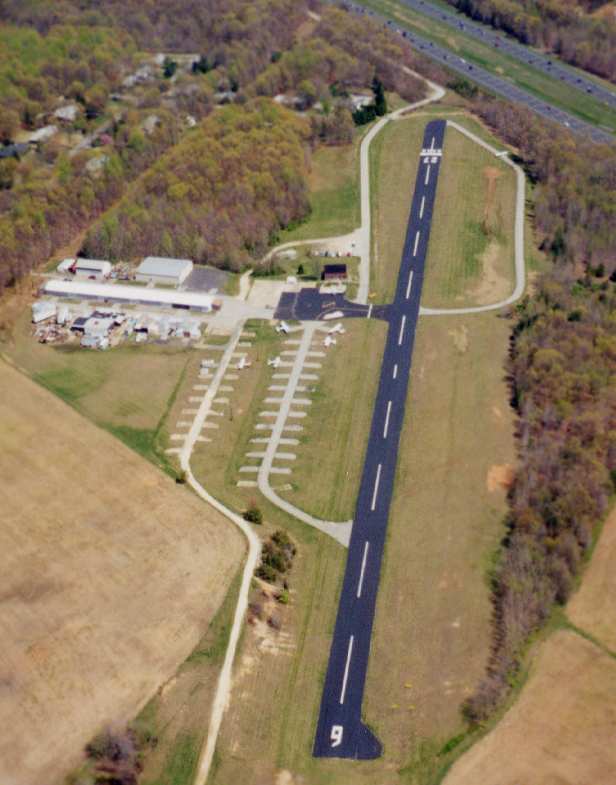 Steve Hackman told Airfields-Freeman.com, "I grew up about 2 miles from Quinn's, which got it's name from Frank Quinn who was a local boy in what was at the time a rural community. I didn't know Mr. Quinn but I hung out around the airport a lot in my younger years.
"He [Steve's uncle] felt like the strip had actually been there since 1950, but maybe only for Quinn's own use.  He also told me that Frank Quinn was an excavating contractor and had cleared the land for the strip & graded it himself. He said that when the airport was first built, Frank had a new Piper Tri-pacer & he used to fly with him occasionally…
"I recall that as kids we were walking along I-95 as it was being built (it was still dirt) and we were near the airport & saw a guy crash… I believe it was the first person to lose their life there. Pappy's clearest memory of the place was that he was there to see the first plane to ever land and he said that Frank (Quinn) had not gotten around to putting down gravel on the strip & it was pretty rough.
"[Steve's uncle] said that he was there with my father when the first plane to land at Quinn's flipped over (he remembered the plane as being a J-3 Cub) and he is positive that he was still in school when that happened which would date the incident to around 1952. And one comment on the runway… I noticed that the description says it was a turf runway, but what it really was, was rough, hard-packed, rocky, rutted-up clay. When the planes would do test run-ups dust would fly!"
According to the book "Maryland Aloft," a 1962 MD Airport Directory reported that the airport was operated by Herbert Shanklin. The publication described the 1,800′ sod runway as "rough & rolling." On the night of January 17, 1962, a fire at the airport destroyed 3 aircraft & badly damaged 2 others. The Baltimore Evening Sun named Fred Quinn as the airport's operator in its report on the fire.
A 1964 aerial view depicted the field pretty much unchanged compared to the 1957 photo, although there were several aircraft parked on the north side of the field, and I-95 had been built across the eastern edge of the airport property.
According to the book "Maryland Aloft," "in 1967, the airport was acquired by Earl Mace & his wife Betsy."
Earl & Betsy paved the runway before reopening the facility in 1968 as Baltimore Airpark. The new owners added hangars & an office building.
Baltimore Airpark was listed on the 1970 Washington Sectional Chart as having a 2,100′ paved runway.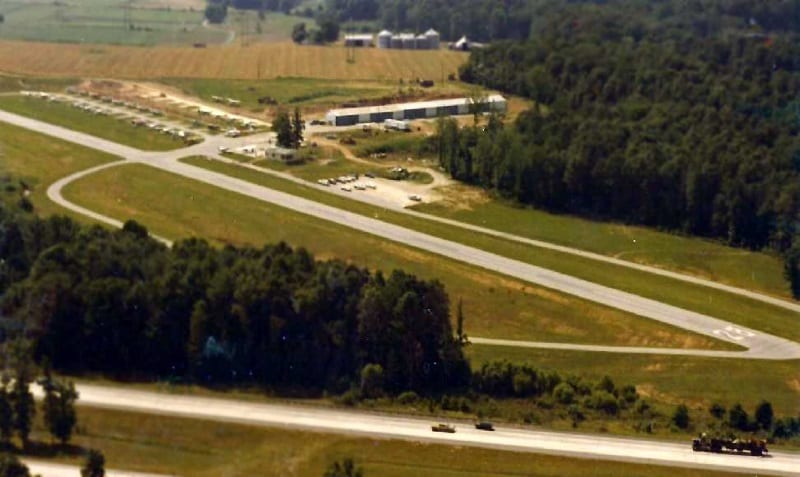 The 1982 AOPA Airport Directory described Baltimore Airpark as having a single asphalt 2,200′ runway and listed the operator as Baltimore Aviation Service.
Baltimore Airpark was closed in 2001, with the property being redeveloped into new homes.
The runway of the former Baltimore Airpark was finally ripped up in 2003.
[Source/photos: Airfields-Freeman.com]