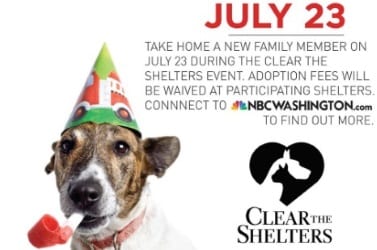 Animal shelters across the country are teaming up to find loving homes for pets in need.
The second annual Clear the Shelters event, a nationwide pet adoption initiative, will be held on Saturday, July 23rd.
More than 400 shelters in 20 states, Washington, D.C. and Puerto Rico will waive or discount fees as part of the one-day adoption drive.
The goal is to "Clear the Shelters" by finding forever homes for as many animals as possible. More than 19,000 pets were adopted during last year's event, but millions more remain homeless. Every year, 7.6 million animals end up in shelters nationwide — and only 2.7 million are adopted, according to the ASPCA.
Dozens of local shelters will take part this year in "Clear the Shelters."
Here's a list of the participating Baltimore-area shelters:
Baltimore County Animal Services
13800 Manor Road Baldwin, Maryland 21013
410-887-7297
Hours: 10 a.m. to 4 p.m.
Baltimore Humane Society
1601 Nicodemus Road Reisterstown, Maryland 21136
410-833-8848
Hours: 12 p.m. to 6 p.m.
BARCS Animal Shelter
301 Stockholm St. Baltimore, Maryland 21230
410-396-4695
Hours: 11 a.m. to 4 p.m.
Humane Society of Harford County
2208 Connolly Road Fallston, Maryland 21047
410-836-1090
Hours: 10 a.m. to 5 p.m.
Maryland SPCA
3300 Falls Road Baltimore, Maryland 21211
410-235-8826
Hours: 11 a.m. to 4 p.m.