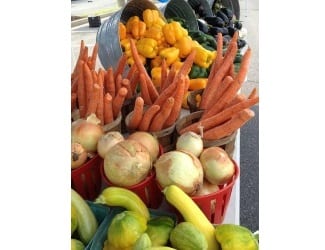 An annual tradition returns to White Marsh this Friday, July 1, 2016.
The Farmers' Market is coming back to The Avenue at White Marsh. Shoppers can experience the fresh taste of locally grown fruits and vegetables from Maryland farms, while supporting local vendors and browsing a selection of baked goods, honey products, handmade soaps and more.
Hours: 10:00 a.m. to 1:00 p.m. every Friday, July through October. Rain or Shine.
Location: Behind A.C. Moore & Staples
Vendors:
1. Bees by the Bay
Honey and products made of 100% beeswax.
2. Bogarty Farms
Fresh local produce, flowers and herbs.
3. Emerge Greenhouses
Assorted annuals and perennials.
4. Friendly Body Product
Homemade soaps, bath bars, lotions and lip balms made from whole and organic ingredients.
5. Great Shoals Winery
Hand crafted, award-winning hard ciders and sparkling wines.
6. H&H Farms
Assorted fruits and vegetables.
7. Hill Forest Fruit Farm
Locally grown fruit, vegetables, plants, and eggs. All grown using sustainable farming methods.
8. Love, Water & Juice
Bottled, cold-pressed juice, herbal tonics, super-food salads with homemade dressings, and assorted vegan nut-based cheesecake.
9. Max's Degrees
Organically grown herbs, spices, sauces, jams, spreads and teas.
10. Maryland Flower & Foliage
Vegetables, fruits, herbs, perennials & flower bulbs.
11. Pet Wants of Perry Hall
Dog food and treats.
12. Zahradka Farms
Assorted fruits and vegetables, herbs and flowers.
Get more details on Facebook here.