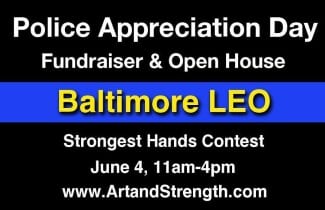 A local Perry Hall gym is inviting Baltimore-area law enforcement officers to participate in a grip strength competition with a chance to win a cash prize and support the Maryland chapter of the Concerns of Police Survivors. The contest will test competitors' ability to bend steel, crush, carry weight on their wrists and use open hand strength.
The "Strongest Hands" competition will be held at Art & Strength, owned and operated by professional strongman Dan Cenidoza, and will coincide with the gym's first annual Police Appreciation Day. The open house will feature a silent auction, raffle, lunch catered by Mission BBQ and a weapons retention workshop by Staff Sergeant Rob Huddleston, a former police officer and current Security Forces Defender in the Maryland Air National Guard.
"Hand strength is an important part of the duties of an officer in the way of weapon retention and restraining a suspect," Cenidoza said. "It is also an indicator of overall body strength and has been shown to have a high correlation with all-cause mortality, meaning, the stronger your hands are, the less likely you are to develop disease."
The competition, which carries a $20 entry fee, is open to the public but only law enforcement officers are eligible for the cash prize. All other competitors will be awarded prizes for placing 1st-3rd in both men's and women's divisions. All proceeds of the event will go to Concerns of Police Survivors' Maryland chapter.
What: Grip Strength Competition and Weapons Retention Workshop
When: June 4, 2016, 11 AM – 4 PM
Where: Art & Strength – 8019 Belair Road, Suite 12
More info: http://www.artandstrength.com/events.html