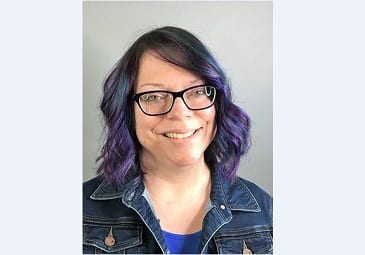 TOWSON, MD – Crossroads Center student Abby Lawson is just a few weeks away from graduation, and she credits her English language arts teacher, Kristen Nielsen, for helping her get there and being her inspiration.
"Unfortunately, not every school can have her, but I was blessed with her, and everything she's done for me," Lawson said.
Nielsen, a champion for all her students, was named the 2019-20 BCPS Teacher of the Year at a ceremony Wednesday night.
Nielsen is in her second year as a teacher at Crossroads, where she teaches Grades 9 and 12. She is also an Advancement Via Individual Determination (AVID) program teacher and a member of Crossroad's equity team.
"Kristen Nielsen does whatever it takes to assist all her students," BCPS Interim Superintendent Verletta White said. "She has dedicated her career to not just doing all she can to teach others but serve as a powerful advocate for equity in public education."
Nielsen, who resides in Middle River, is in her 16th year as a Baltimore County Public Schools educator. Previously, she taught at Eastern Technical High for 11 years, Deep Creek Middle for three years, and Chesapeake High for one year. She earned bachelor's and master's degrees from the University of Tennessee in Knoxville and a reading specialist certification with a focus on adolescent literacy at Goucher College.
Principals at the 174 BCPS schools, programs, and centers could nominate one educator for BCPS Teacher of the Year. Nominations were received from 164 schools, and all nominees are featured on the Team BCPS blog by zone: east, central, and west. A selection committee, comprised of administrators, teachers, students, and staff, selected Nielsen as this year's BCPS Teacher of the Year.
In addition to Nielsen, four other BCPS finalists were recognized. They include:
Christina DeSimone, child development teacher, Catonsville High
Jamie Metzgar, Grade 5 teacher, Honeygo Elementary
Abigail Metcalf, inclusion teacher, Relay Elementary
Ronald McFadden, choral arts teacher, Southwest Academy
Past BCPS teachers of the year include:
2018: Brendan Penn, Lyons Mill Elementary
2017: Rebecca Eig, Owings Mills Elementary
2016: Corey Carter, Northwest Academy of Health Sciences
2015: Orly Mondell, New Town High
2014: Anne Cross, Gunpowder Elementary
2013: Sean McComb, Patapsco High & Center for the Arts, the 2014 National Teacher of the Year
Facebook Comments