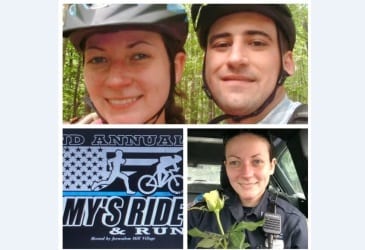 As a police officer in the Baltimore County Police Department, Amy Caprio gave her life protecting the citizens of Perry Hall on May 21, 2018.
On June 3, 2018, there was a bike ride held at Jerusalem Mill to honor and remember her sacrifice.
On Memorial Day, May 27, 2019 (which happens to be Officer Caprios's birthday) the 2nd Annual Amy's Ride and Run will take place at Jerusalem Mill Village. This year's event will also include a 5K memorial run in addition to the road and mountain bike rides.
Registration will open up at 7:30 a.m. Road ride will start at 8:30 a.m. The 5K memorial run will start at 8:45 a.m.  The mountain bike ride will begin after the road ride returns.
Registration fees: $30 pre-registration, $35 same day sign up
Register at: https://barbellsandbadges.com/collections/events/products/amy-s-ride-run-registration
All proceeds will benefit the Amy Sorrells Caprio Scholarship at Towson University & Honor a Hero Project.
Facebook Comments