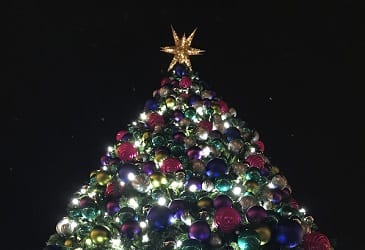 Baltimore County's annual Christmas tree lighting ceremony will take place on Friday, November 30 at 6 p.m.
It will be held in the downtown Towson shopping district at Olympian Park, located at the corner of Allegheny Avenue and the traffic circle.
This year's festivities will feature Santa and Mrs. Claus arriving on a fire truck, free hot chocolate and cookies, and holiday musical performances by the Perry Hall Middle School Panthers, the Anna Appicella School of Dance, and the Gold Starz Marching Band.
The annual event is co-hosted by Baltimore County and the Towson Chamber of Commerce.
County Executive Don Mohler and County Executive-Elect John Olszewski, Jr. will participate in the event.
The official lighting of the Baltimore County Christmas tree will take place at approximately 6:22 p.m.
Immediately following the tree lighting, the Towson Chamber of Commerce will host free visits with Santa and Mrs. Claus as well as holiday musical performances. Parents should bring their own cameras if they'd like photos of their children with Santa.
To accommodate the event, Allegheny Avenue will be closed to traffic from Washington Avenue to the traffic circle from 4:30 p.m. until approximately 8:30 p.m. on Friday.
Mid-Atlantic Properties will offer free parking from 5 p.m. to 9 p.m. at their parking garage located at 111 Allegheny Avenue.
Facebook Comments