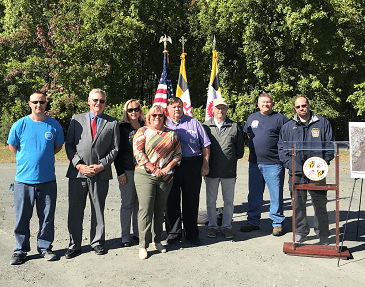 Baltimore County has purchase several acres of land in Middle River that will be preserved as "Open Space."
Using environmentally beneficial Program Open Space funding, the county will be acquiring 22.93 acres on the southwest corner of Bengies Road and Bourque Avenue (21220).
The announcement was made on Tuesday by County Executive Don Mohler and Councilwoman Cathy Bevins.
These large areas of open space near county waterways will help to filter run-off and improve water quality.
As a result, no homes will be built on this property, which Baltimore County acquired for $100,000.
"Preserving rural lands is one of the most effective ways to protect the drinking water supplies for 2.6 million people in the Baltimore region, as well as the water quality of our streams and rivers that flow to the Chesapeake.
"I am always looking for sites around the district for Project Open Space," said Bevins. "I am thankful for the administration for purchasing this land. This is the latest in a long list of ways we have worked to improve the environment here in Middle River. From dredging the Bird River to preserving open space, I have worked hard to protect and improve the environment."
The property is zoned for medium-density residential development and has a recorded 20-lot subdivision. By purchasing this property from Windlass Woods, LLC., the county is guaranteeing its ability to serve as a filter for stormwater, protecting the water quality of Middle River and the Chesapeake Bay. It will be preserved as a forested refuge for wildlife, while offering scenic views in a growing area of the County, near the Baltimore Crossroads mixed-use development.
Facebook Comments