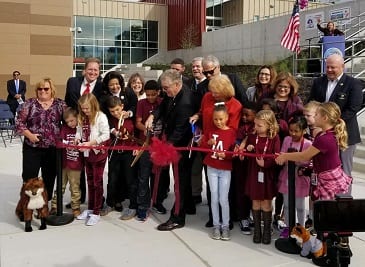 It's official.
A ribbon-cutting ceremony was held on Tuesday morning at Honeygo Elementary School, the area's first new school in over 25 years.
Honeygo Elementary School Principal Charlene Behnke was joined by Baltimore County Public Schools Interim Superintendent Verletta White, Baltimore County Executive Don Mohler, Councilman David Marks, Councilwoman Cathy Bevins, BCPS Board Member Julie Henn, and many other elected officials.
"Congratulations to the students, educators, and staff, and thank you to all who made this possible," said Councilman Marks.
The $49 million school, which opened to students in September, is a state-of-the-art learning environment designed to increase northeast area capacity with 725 new seats.
Two additional schools will open in the northeast in the next several years, and money has also been allocated to plan for high schools.
Honeygo Elementary School is located at 4816 Joppa Road in Perry Hall (21128).
Wow. Honeygo ES ribbon cutting this morning. And the diversity of the student body was inspirational. Great staff. Great community. This is Baltimore County. Thank you Supt White. – CE Don Mohler #TeamBCPS #HoneygoElementarySchool #ILoveBaltimoreCounty pic.twitter.com/XdqB530pBv

— Baltimore County (@BaltCoGov) October 16, 2018
Facebook Comments