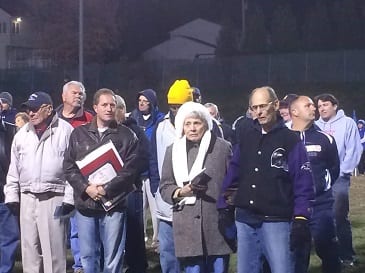 The local community is mourning the loss of Albert D. Miller, Jr., longtime coach and teacher at Perry Hall High School.
On Friday, Perry Hall Athletics tweeted:
Perry Hall lost a great man today. Al Miller passed earlier this afternoon. The long time teacher, coach and Athletic Director will be missed. Arrangements to follow.
Councilman David Marks added:
Very sorry to pass along the news of the death of Al Miller, 32-year coach and teacher at Perry Hall High School…Mr. Miller was one of the greats at Perry Hall High.
Miller coached for 40 years, from 1958 to 1998, at Dundalk High School and then at Perry Hall High School. Upon transferring to Perry Hall High School in 1966, he subsequently served as football coach, wrestling coach, and athletic director until his retirement in 1998.
Miller was honored with numerous awards. He was named Baltimore County Wrestling Coach of the Year four times and Baltimore County Football Coach three times. In 1998, he was honored as the first inductee of the Perry Hall Sports Hall of Fame.
In 2013, Perry Hall High School dedicated its stadium in Coach Miller's honor.
Facebook Comments