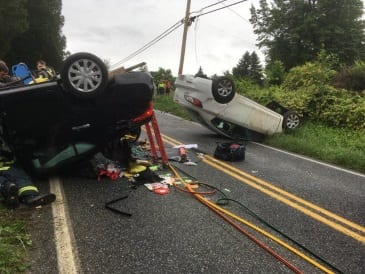 UPDATE: There was only one occupant in each vehicle. Both drivers were freed and taken to Shock Trauma in serious but stable condition.
Original story below…
——
Crews are on the scene of a serious, Sunday evening crash in Joppa.
The crash was reported at just after 4 p.m. in the 2000 block of Old Joppa Road.
Advertisement
Two vehicles are overturned and people are trapped. A MedEvac chopper was requested but is unavailable due to the weather.
Emergency personnel from the Joppa-Magnolia Volunteer Fire Company are using the "jaws of life" at the scene.
Motorists should avoid the area.
Facebook Comments