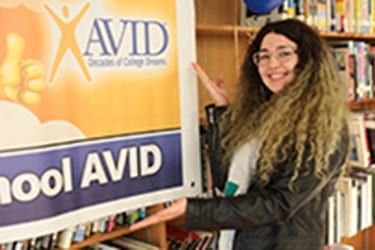 TOWSON, MD. – She sat in the audience. And then, she discovered that she was actually the reason for the assembly.
Madison Wood, a senior at Overlea High School, learned on May 1 that she has been selected from 1,000 applicants to be a speaker at the AVID Summer Institute in Philadelphia on July 19.
AVID stands for Advancement Via Individual Determination.
She is the third AVID student from Baltimore County and the first ever from Overlea to be selected for this opportunity.
In a letter to Wood, Patrick Briggs, AVID northeast states director wrote, "Nearly one thousand people entered our speaker contest, and out of all those amazing stories, yours truly shined… You reflect the very best of what AVID is. We are so honored that you will share your story. Know that you will help change the lives of AVID educators and students for years to come."
Wood will be headed to Notre Dame of Maryland University in the fall with a full ride scholarship. "She is an extremely hardworking individual who has never let a challenge stand in the way of her academic success," said Lauren Brown, AVID coordinator at Overlea High School. "I know that everyone will walk away from Philadelphia feeling inspired by her story."
AVID is an international initiative designed to accelerate students' academic progress and prepare them for success in college. Currently, the program is offered in BCPS at 22 high schools, 22 middle schools, and one elementary school. Each year, more than 40,000 educators gather at one of 12 Institutes for additional training and to share best practices in AVID implementation. The institute in Philadelphia, where Wood will speak, is expected to attract 3,000 participants.
The key components of AVID in BCPS are:
A daily AVID elective class focused on writing, inquiry, collaboration, organization and reading (WICOR)
Rigorous courses and critical thinking skills
Focus on organizational and management skills (Cornell Notes and organized notebooks)
College preparation and tours
PSAT/SAT training and practice
Continuous professional development for school staff
Career goal planning
In Baltimore County schools, data indicates AVID improves attendance, increases student participation in highly rigorous courses (such as gifted and talented, honors, International Baccalaureate, and Advanced Placement), increases PSAT participation, and increases High School Assessment pass rates – in algebra, biology, government, and English.
Facebook Comments