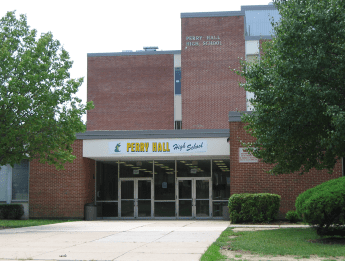 Police stepped up their presence at Perry Hall High School on Thursday following a threat of violence.
Rumors spread via social media on Wednesday suggesting that a student was going to bring a weapon to school.
Several students passed around flyers as a hoax and are now facing school disciplinary action and possible criminal consequences.
The school sent the following email to parents on Thursday:
Dear Parents and Families of Perry Hall High School:

Last evening, we received information that there was an alleged threat that a student would be bringing a weapon to school today. This alleged threat was later spread by social media. Before sharing this information with our community, I wanted to confirm that we had obtained a full and accurate report, and I also consulted with the Baltimore County Police. We learned that this threat was a hoax on the part of several students who now face disciplinary action and possible criminal consequences.

As a result of our investigation and actions taken, today will be a normal instructional day for our students at Perry Hall High School. In order to support our community and as a proactive step, the police have assigned additional officers in the area.

Story continues below





We take threats such as this very seriously, and I want to remind our families that it is important for all of us – student and parents alike — to inform school staff or police any time you or your child sees, hears, or reads anything that is suspicious or that may pose a threat to the school or its students. We all have a role to play in ensuring that our school remains a safe and secure learning environment for our children. Please let me know if you have any concerns or questions.

Thank you for your continued support of your student and of Perry Hall High School.

Sincerely yours,
Andrew Last
Principal
Some think the email from PHHS is "too little, too late."
Baltimore County Public Schools Board Member Julie Henn posted to Facebook on Thursday morning:
I have again raised concerns of the community over the repeated lack of timely communication. Parents need timely information to make the best decisions for their children. We are partners with BCPS and we need to be treated as such and not kept in the dark.
Facebook Comments