MIDDLE RIVER, MD—Rocket Lab on Friday cut the ribbon on its new Space Structures Complex in Middle River.
The event included many local and state representatives, including Delegate Ryan Nawrocki, Delegate Kathy Szeliga, U.S. Senator Ben Cardin, Congressman Dutch Ruppersberger, County Executive Johnny Olszewski Jr., Senator J.B. Jennings, and Councilman David Marks.
This expansion of the space systems business with a dedicated production and development complex represents a continuation of the manufacturing history of eastern Baltimore County. The complex will support the development and manufacturing of space rockets. The site will also play a role in the development and long-term supply of parts for Rocket Lab's new medium-lift launch vehicle, Neutron.
Rocket Lab's new Space Structures Complex will be established in the former 113,000-square-foot Lockheed Martin Vertical Launch Building in Middle River, which has been home to aerospace manufacturing since 1929. Rocket Lab expects to employ up to 65 people at the facility by the end of 2025.
Delegate Nawrocki stated, "As a resident and representative of Middle River, today's announcement was personally gratifying as it continues the long history of manufacturing in the area that my family has been a part of, dating back to aircraft building at these facilities in World War II. It's a great day for Eastern Baltimore County."
Delegate Szeliga agreed, saying, "I recently discovered that my father worked at the former Glenn L. Martin facility! This exciting announcement continues the legacy of so many families who also share in this local history of aeronautical engineering and innovation."
"I was delighted to join my colleagues in welcoming this company to the Lockheed Martin site, continuing the proud tradition of aviation and aeronautics in eastern Baltimore County," said Councilman Marks.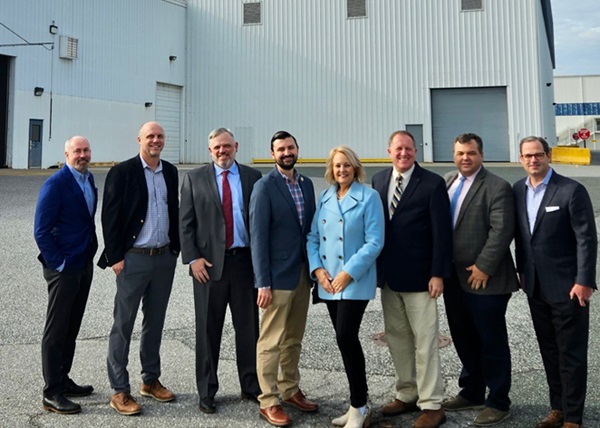 Photos via Councilman David Marks and Delegates Ryan Nawrocki & Kathy Szeliga