TOWSON, MD—Beginning the week of October 2, the Maryland Department of Transportation State Highway Administration will start the next section of its project to ease congestion and improve reliability along I-695. The project will convert portions of the median shoulder along I-695 between I-70 and MD 43/White Marsh Boulevard into an additional travel lane during morning and evening rush hours.
The work beginning next week will take place in the median of I-695 between Stevenson Road and Joppa Road in the Pikesville/Towson area, and work in this section is expected to continue through spring 2024.
Crews will be in place weekdays 9 a.m.-3 p.m., as well as overnights, 8 p.m.-5 a.m. the next morning. One lane on both the inner and outer loops will be closed during these periods and crews can occasionally close two lanes beginning at 10 p.m. at night. Additionally, speed limits will be reduced during work hours, and speed enforcement will be in place to promote work zone safety.
"We know motorists will be inconvenienced by these off-peak lane closures and speed reductions along I-695, but we all must work together to protect the men and women – our neighbors, mothers and fathers, sisters and brothers – who are improving our highway system," said Maryland Transportation Secretary Paul J. Wiedefeld. "The work we're accomplishing will create a better, safer and more reliable highway network for everyone."
SIGNIFICANT DELAYS DURING WORK HOURS. Work will not occur during morning and evening rush hours. However, during off-peak hours when work is underway, motorists are urged to avoid the section of I-695 between Stevenson and Joppa roads, if possible, to help protect construction crews and avoid backups. Motorists who cannot avoid that area during construction hours should expect significant delays. Drivers must stay alert, avoid distractions and plan extra travel time. Depending on your destination, alternative routes may include MD 130 (Greenspring Valley Road), MD 133 (Old Court Road), MD 25 (Falls Road), I-95 and I-895. Use of transit and ridesharing are encouraged.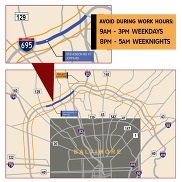 SPEED LIMIT REDUCED. In addition to single-lane closures, the speed limit will be reduced 10 mph during work hours and when workers are present in the work zone area – from 55 mph to 45 mph. During periods when work is not underway, the speed limit will return to 55 mph.
AUTOMATED SPEED ENFORCEMENT. The State Highway Administration may implement the Automated Speed Enforcement System in the work zone, including warning signs, speed sensors and cameras. Following a 21-day grace period, motorists traveling above the speed limit will be subject to a fine of $40.
"We will employ strategies to calm traffic and enhance enforcement, which will improve safety during the work," said State Highway Administrator William Pines. "Our goal for this and all work zones is to deploy the latest technology and work with our law enforcement partners to modify and correct driver behaviors."
ABOUT THE I-695 PROJECT. The work on I-695 is a Transportation System Management and Operations project involving lane controls, intelligent traffic monitoring and other features to improve safety and reduce congestion. The project will allow the median shoulders along the I-695 inner and outer loops between I-70 and White Marsh Boulevard to serve as additional travel lanes, primarily during peak-morning and evening rush hours. Lane-use control signals, like those used on the Bay Bridge and Fort McHenry Tunnel, will indicate when the shoulder can be used for travel.
Outside of designated rush hours, the median shoulder will revert back to being a shoulder, although the lanes also could be used as travel lanes in response to incidents or emergencies.
Construction on the I-695 project began in 2020 and is expected to be complete in fall 2025, weather permitting. After the Stevenson Road and Joppa Road segments are completed, other areas will follow within the overall project limits. Overall work involves pavement widening, shoulder rehabilitation and reconstruction, stormwater management and drainage improvements, installation of underground conduit, new highway signage and pavement markings and highway lighting improvements.
Once complete, the project will result in the elimination of nine congestion bottlenecks, improve safety, and offer time savings of up to 34 minutes for morning commuters traveling on the I-695 outer loop between Overlea and Catonsville, and 21 minutes for evening commuters traveling on the I-695 inner loop between Catonsville and Overlea.
Additional information on the project is available online here.
Photo via Pixabay